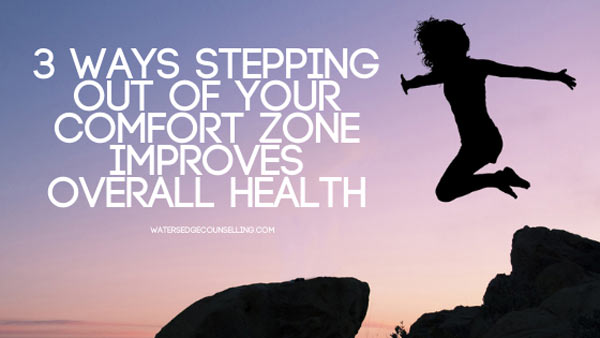 Everyone has their own "comfort zone."  It's a place where you feel safe, secure, and it can be hard to leave. While there is nothing wrong with having a comfort zone and using it to feel better in times of stress, it's not always in your best interest to stay there.
When you stay in your comfort zone, you could be missing opportunities. In general, you could be missing out on life. Additionally, you could be missing out on some incredible health benefits.
Your comfort zone is more than an actual "place". It's a state of mind. By stepping out of it from time to time you can improve your overall health and gain a new perspective on life.
Find Courage With a Career Change
One of the biggest jumps out of your comfort zone you could make is changing careers. If you've never done it, you could be missing out on something great. Consider the fact that the average person switches careers 5-7 times throughout their lives. If you've felt "stuck" in the same one for too long, it could be time to make a change.
It's understandable to want to play it safe. Switching careers can be scary. You have to start looking for jobs, networking, and even updating your resume. One of the benefits of changing careers is that you can utilize untapped skills and resources you've gained over the years, and even take the time to educate yourself further to showcase your skills, including:
Hard skills
Soft skills
Transferrable skills
Whatever career you decide, don't let your comfort zone hold you back. Use it as an opportunity for growth, and you could learn more about yourself than you ever thought possible.
Learn a New Skill and Reap the Benefits
When you step out of your comfort zone, you'll find that one of the biggest benefits to your health is a boosted self-confidence and some expanded strength. Learning something new is a fantastic way to propel these benefits even further.
Is there something, in particular, that you've always wanted to try but you have been holding yourself back? Reining in on those thoughts and feelings can leave you with extra stress, but it can also cause you to see yourself negatively.
By overcoming those hurdles and learning something new, even if it's scary at first, you can experience growth. That kind of intentional growth promotes positivity in your life.
If you're a more introverted person, growing with new skills can be especially helpful. Introverts are less sensitive to the rewards that come from being social. But, it's still important to feel accomplished on a personal level. Learning something new and finding ways to grow can improve your mental health. You'll reduce the risk of falling into the traps of anxiety and depression, and it will be easier to find contentment.
Change Your Daily Habits
Remember, stepping out of your comfort zone is just that – a step. While things like switching careers, going back to school, or trying something new can feel like more of a leap, there are small things you can do to step out of that zone and improve your wellbeing.
Changing some of your habits and mixing up your daily routine can help you to take smaller steps out of your comfort zone until you're ready to commit to larger leaps.
You can start with your morning routine. Maybe you're comfortable with sleeping in, having a late breakfast, and easing into the day. However, you can take control of your health by waking up earlier, working out, meditating, or stretching. They are simple things, but they can be challenging when you're used to a certain routine.
Another small step you can make is to look at the products you're comfortable using. Have you been buying the same body care products or makeup for the last several years? Chances are, once you found what "worked", you didn't look back. Unbeknownst to you, however, some of these everyday products may contain unethical ingredients that could be harmful to animals, the environment, and even you. Check the ingredients in everyday products like:
Makeup
Skincare
General hygiene
Cleaning and household products
Food
Stepping out of your comfort zone and changing the products you use might feel odd at first. But, when you know you're doing it for the right reasons, it can once again boost your positivity levels and your self-confidence.
All of the benefits of stepping out of your comfort zone link together. When you do something out of that zone, you'll feel more accomplished and courageous. As a result, you can boost your esteem. As a result, you can improve your mood and energy levels.
Self-improvement is a cycle that continues from mental to physical health. When you're happier, you're bound to be more motivated. It can lead to trying even more new things and taking better care of yourself. So, don't be afraid to take that first step, no matter how small it may be. When you're committed, that small step can lead to big benefits.
Are you ready to step out of your comfort zone? We can help. Contact Colleen on 0434 337 245 or Duncan on 0434 331 243 for a FREE 10 minute consultation on how we can best help you or book online now.