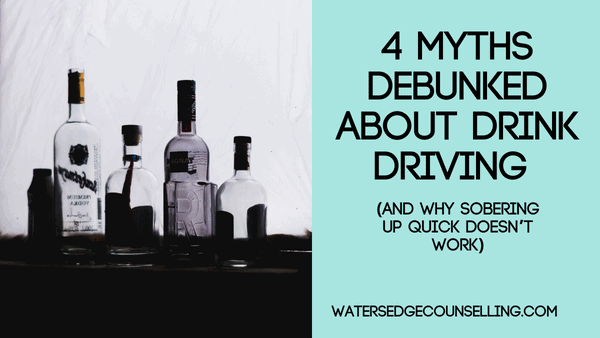 Drinking to excess is a common way to unwind after a long week. But when it comes to your quality of life, there are plenty of reasons why it's essential you remain in control of your alcohol intake. Of course, one of those reasons includes the fact that driving under the influence of alcohol can have disastrous consequences. Beyond being fined for Driving Under Intoxication(DUI) , you are at risk of harming yourself and others, and this can drastically transform relationships, create financial pressure, and inhibit your physical and mental wellbeing.
That being said – it's easy to look for loopholes with drinking. "Just one more," "That wasn't a standard drink," or "I'll drink heaps of water really quickly," all come to mind. Some are excuses, and others are myths and keep us coming back for more.
So what are the myths about drinking alcohol and sobering up that you believe? This infographic by ArizDui.com/DUI Defense Attorneys sheds light on what quick fixes don't work. Here are four debunked that you need to know before you consider drinking to excess and getting behind the wheel.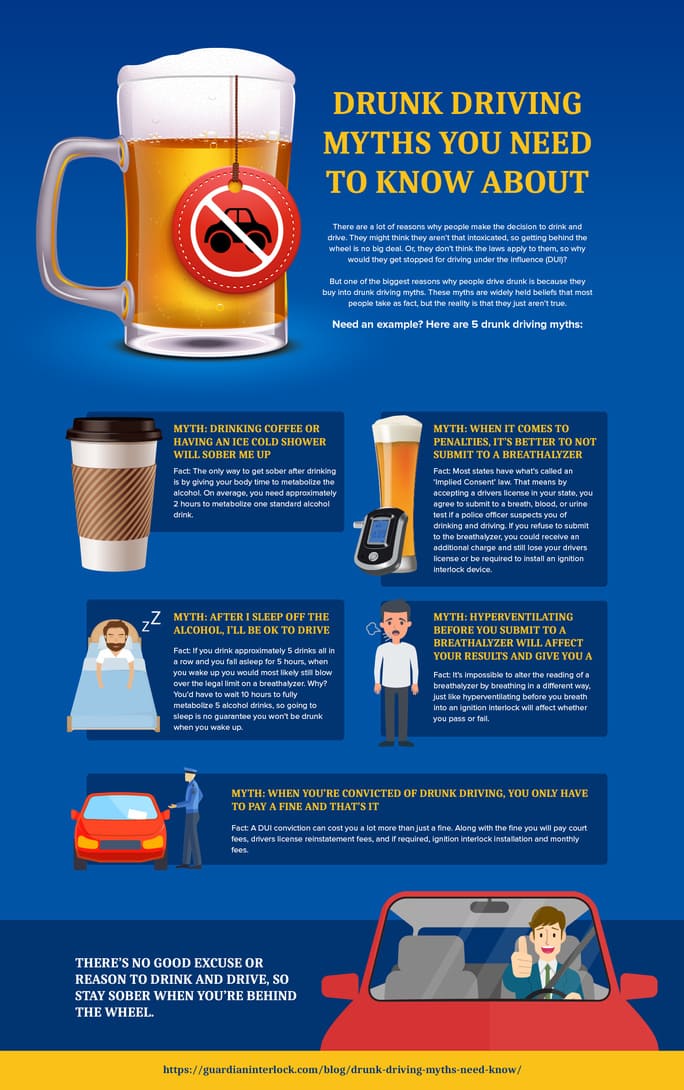 Myth: Waiting an hour or eating can help lower your Blood Alcohol Content (BAC) level
Truth: While eating might be able to lessen the narcotic effects of alcohol, it won't have any effect on your BAC levels. Some studies have also shown that the BAC is often at its highest an hour after your drinking session. Undeniably, the best and safest way to avoid a DUI is to not get behind the wheel. Even if you only had a glass or two, there is still the possibility that you will fail a breathalyzer test. Put your safety first and opt for a taxi or rideshare service instead.
Myth: Taking a cold shower or drinking coffee can help you sober up.
Truth: Many people feel like they have sobered up after a cold shower or after drinking coffee—some even report feeling more alert and awake. However, coffee and a cold shower won't affect your BAC level in any way. You will be considered sober once the alcohol leaves your system. Unfortunately, the metabolic process is very slow. It's safe to assume it would take several hours before the metabolic process is completed.
Myth: You are always below the BAC limit if you only have a few drinks.
Truth: While this is possible, there are several factors for the "two drink rule" to apply universally. For starters, what is your gender? How much did you eat? What is your body mass? The answer to those questions can significantly impact how your BAC climbs. In addition, the type of alcohol you have been drinking – and the size of the cup you are drinking from – will determine how many standard drinks you have consumed.
Myth: Sleeping for a few hours can make you sober.
Truth: Many believe that when they get some sleep, they will be sober enough to drive when they wake up. Unfortunately, there is no truth to this. Even if you sleep for a few hours, your body won't automatically reset and sober you up. Remember that the amount of alcohol detected in your bloodstream will depend on many factors, including the period the alcohol is consumed, the amount of alcohol you consumed, and the speed at which your body gets rid of it. So if you think you can have a big night out and then drive to work the next day, think again, and be aware of how much alcohol you have consumed.
When it comes to driving, it pays to never leave anything to chance. Make sure you educate yourself and know the facts behind the common myths about drunk driving so you won't put yourself and others at risk.
Do you use alcohol to cope with life's stressors? Are you concerned about the health and wellbeing of a friend? Here's what you need to do: Contact Colleen on 0434 337 245 for a FREE 10 minute consultation on how we can best help you or book online now.