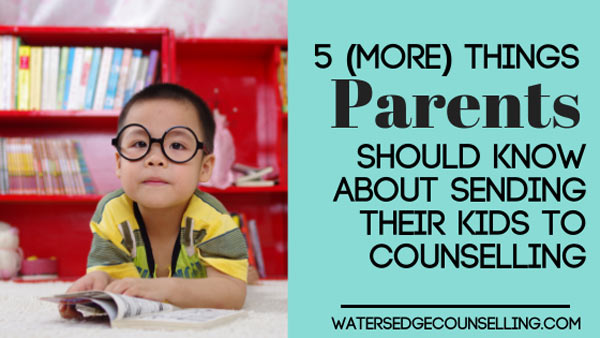 Sending your child or teen to counselling is a courageous decision. Many parents or guardians set up an appointment because they're desperate and concerned for their child while still battling the stigma that counselling is for 'sick people'. But it's not. Counselling is for everyone, and you and your child should be celebrated for your bravery.
It's easy to make this decision, and it can bring up more questions than answers. Last week we looked at 5 Things parents should know about sending their kids to counselling.
This week, we're sharing 5 more truths parents need to know about kid's counselling. 
Not every counsellor is right for your child
It's wonderful that you've sent your child to counselling, but what happens when things don't seem to 'click'? Maybe your child doesn't trust the counsellor, won't open up, or the counsellor doesn't seem to understand your family dynamics? Not every counsellor is right for every child, so follow the instincts of your child. If they want to keep seeing the counsellor, that's an indication this is working. But if they don't feel understood or are uncomfortable, you may need to look for another one.
Before you take your child out of counselling or look for another counsellor though, ask yourself this question: Am I moving my child because they need it, or because I am uncomfortable with the truth about our relationship?
It's not all about you (sorry)
Counselling won't always reflect well on you as a parent or guardian. As hard as we try, none of us are perfect parents, and this inevitably leaves our kids with emotional baggage they need to work through. If things start coming to light about your relationship— say the way you and the child communicate, discipline practices, or the child isn't 'improving' as fast as you would like, remember: this is not about you.
Be open, be honest and be accountable. You're not the bad guy in the counselling room; you're the supporting parental figure. This may require you to change some of your behaviours to better support your child, but you're not inherently wrong or bad. We all the do the best with what we have, and the counsellor is now showing your family a new, healthier way to interact.
Every child heals differently
We wish there was a miracle cure for trauma or anxiety, but for many kids (and adults) healing is a lifelong journey. While we can expect to see changes in how kids behave and feel once they begin counselling, they don't all experience this at the same rate. Some kids will only need 8 to 10 sessions to work through an issue. Other teens may need an occasional appointment in a 'mentoring' capacity, and some may require years of support.
Don't be threatened or startled if your child's timeline is longer or shorter than you expected. The sign of effectiveness is less about time, and more about your child's experience. If they want to keep attending, let them. And if paying for sessions is an issue, discuss options with the counsellor. They are nearly as passionate about your child's wellbeing as you are.
Counselling can take many forms
Every child heals differently, and therapists have their own unique specialty. Due to this, your child's therapy may look different than what your expected. Some professionals and kids thrive off a traditional talking and listening model. Meanwhile others will do better with play therapy, and find painting, building, drawing or movement more effective.
Other therapists will encourage the use of a syllabus and worksheets, and some will create games or family activities to facilitate healing. Many therapists use a mix of many or all of these models. If you're not sure what is going on, ask the counsellor. The best indicator of effectiveness is how open and understood your child feels during sessions.
The counsellor is on your team
Your child's counsellor is on your side. They also want your child to heal and thrive, and are acting in the way they believe will best facilitate this. Sometimes you may feel defensive, threatened or overwhelmed when our child is in therapy. In these moments, remember this — you're not in this alone. Trust the process, and don't be afraid to bring up any concerns with the therapist.
Some counsellors will suggest you see your own counsellor, or that you begin family therapy in addition to your child's sessions. This collaborative approach creates a more healing environment for the child. There are some cases where entering your own therapy, or having family sessions will be essential for your child's healing. Please be open to this as best as you can. Your child or teen will appreciate it immensely, even if they don't verbalise this.
Is your child or teen stressed, anxious or traumatised? Are you concerned about their wellbeing? Contact Colleen on 0434 337 245 or Duncan on 0434 331 243  for a FREE 10 minute consultation on how we can best help you or book online now.