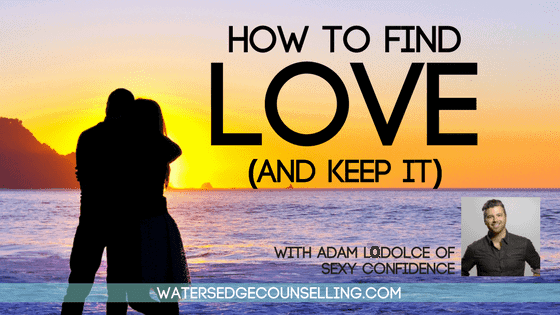 When it comes to romantic relationships, everyone seems to have more questions than answers—except for Adam LoDolce. For the last several years, he has been coaching women on how to find the love they deserve through his brand Sexy Confidence. He has been featured on CNN, MTV and Women's Health, and has helped 83 million women find their own sexy confidence.
Adam was kind enough to answer some questions for us about dating myths, why self-confidence is the key to sexiness, and how he took the path to become one of the top dating experts in the world
WE: How and why did Sexy Confidence start?
AL: I actually used to teach men how to go out and date women—confidence techniques and how to be more sociable, how to have great body language and what to say when going out and meeting women. I was featured in CNN and a ton of other websites, and randomly I had one article that was featured in Glamour.
I had so many women reaching out to me for advice about men. And I found out that, as I was getting these questions, I actually know more about attraction for women than I do about attraction for men.
At that point I decided I was going to start a new brand called Sexy Confidence purely giving advice to women on my YouTube channel. Within about 6 months it absolutely blew up, and I stopped coaching men and focused all my attention there.
WE: What is the number one concern women come to you with?
AL: Ultimately, it really is that the guy that they want or are attracted to doesn't want to commit to them. It is generally an issue of commitment. They started seeing a guy and he's great, and he's fun—great chemistry, great sex, all that stuff. But he doesn't actually want a relationship. Then what do they do? That is a concern.
WE: What are the biggest myths women believe about relationships?
AL: One of the biggest myths is that you should wait for love to come to you. Just sit back, and it will come when you least expect it. I think that's a huge myth. I think it's key to get out there and push yourself.
I always coach and suggest that my clients go out and be confident in themselves and go out and meet people. It doesn't mean you should just straight up go and hit on a guy, but definitely out yourself in scenarios where you can be social and meet lots of new people.
WE: Why is it so important women fully understand and appreciate their self worth before they enter a relationship?
AL: Because ultimately you set the standard for how people treat you. If you find yourself in a bad relationship with a guy who doesn't treat you well, and you just take it, don't do anything about it, and don't set a standard, then he's just going to keep treating you that way. I find that's true in life with any relationships—not just romantic.
WE: What is the first step a woman should take who wants to re-enter the dating scene after a big break up?
AL: The biggest thing is to take time to rediscover your identity and enjoy just being single again. Don't feel like you just have to jump right back into the singles scene right after a breakup.
WE: How has understanding the female mindset and empowering women helped you in your own life?
AL: It has certainly helped me in my own relationship. I've been with Jessica for over three years now, and every single day I hear something new from women and I always take in that knowledge and try and be more empathetic and more understanding with my own interpersonal relationship, because relationships are always hard in some way.
In some way, all relationships are a bit messy in life; so don't assume that it's got to be absolutely perfect. Every dating and relationship coach I've ever met has their own troubles in their own relationships. Not always major troubles, I don't myself. But it's never perfect. 
WE: Why have you dedicated your life to helping women become sexy confident?
AL: My whole goal with Sexy Confidence is to help women be more confident and help them love themselves for who they are, and that is the key to being happy with your life. Because no matter what—even if you are single or are in a relationship, you can still be happy with who you are.
To find more out about Adam and Sexy Confidence, visit SexyConfidence.com.
If you have recently experienced a break up and believe that your relationship can and should be saved, you can also see his new Winning Him Back program about recovering from heartbreak. 
Are you looking for love? Is there conflict in your romantic relationship you can't resolve, or have you gone through a recent heartbreak? Here's what you need to do: contact Colleen on 0434 337 245 or Duncan on 0434 331 243, or BOOK ONLINE NOW.