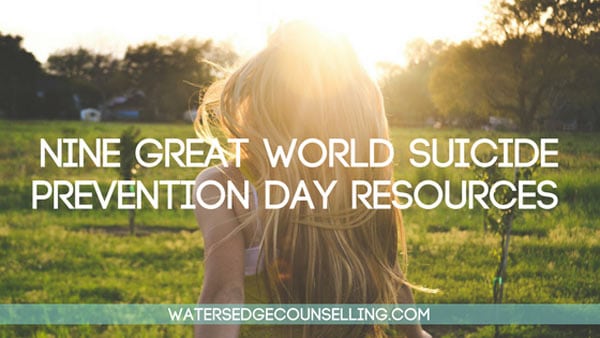 It's overwhelming to think that we lose 400,000 people every year to suicide. But we can all take small steps in our own lives to bring down the numbers and better support people in our community who are struggling.
World Suicide Prevention Day (WSPD) is this Sunday, September 10, and it provides us with an opportunity to talk about this oft-taboo issue and how it impacts so many of us. A great way to start is by educating yourself on the issue and speaking about it with a friend or a counsellor.
Here are nine great resources you can check out this WSPD. Not only will they inform you, but they will give you advice on the warning signs, how to help a friend, the best places to seek help and, highlight events going on locally and online that you can participate in.
This World Suicide Prevention Day, we are glad you are here.
Suicide Prevention Australia is the national peak body for the suicide prevention sector in Australia. Their official website for WSPD provides you with resources to print out and share with your community. This year's theme is 'Take a minute, change a life,' and SPA have a terrific calendar of local events so you can connect with people in your own community who are advocates, survivors and loved ones of those gone too soon.
When US singer Logic performed his song "1-800-273-8255," at the MTV Music Video Awards, the world was enthralled with his moving and beautiful tribute to people struggling with suicide. The name is taken from the number of the US National Suicide Prevention Lifeline, and calls went up by 33% after he released the song in April. You can watch the video here and share it online via YouTube (Content warning: some images in the video may be triggering).
Every year, TWLOHA run a World Suicide Prevention Day Campaign, and this year the theme is 'Stay. Find What You Were Made For'. Over the US National Suicide Prevention Week (September 10-16) they will release new content online to create conversation around suicide prevention, and encourage people to seek help and, above all, stay.
To correspond with their WSPD campaign, TWLOHA have released a powerful video, encouraging people to stay. Supporters, celebrities, athletes and musicians all make appearances on the video, telling the world why they have chosen to stay and what they were made for. If you want to begin a conversation about suicide prevention but don't know where to start, this is the perfect video to share with your family and friends.
This new radio based campaign brings together some of the biggest names in music: Metallica, Logic, Krist Novoselic (Nirvana), Halsey, Jack Antonoff (Bleachers), Khalid and more. Organised by Entercom, a two hour radio broadcast will take place on September 10 at 10am ET, and artists will share their own stories, talk about how to help family and friends, discuss how to navigate discussions around suicide prevention and mental health, and provide help and resources.
This short article lists risk factors and warning signs that indicate someone is at risk of suicide. It includes details on events, emotions and illnesses that could trigger this, as well as details on how to create your own Safety Plan.
Suicide Prevention Charity R U Ok? Have been convoying round Australia over the last six weeks, engaging with people and educating communities on how to approach the much needed 'are you okay?' conversation when we notice a friend struggling. Finishing on September 14 for R U Ok? Day, they have a slew of great events you can attend, as well as some fabulous resources on their website that will inform and empower you to seek help, or help a friend.
Australia's primary suicide hotline, Lifeline, runs the Out of the Shadows walk every year to coincide with World Suicide Prevention Day. The walk raises awareness, remembers those we've lost, and unites people with the common goal of erasing suicide once and for all. You can plan your own walk and find resources here.
Earlier this year, we published a blog about the death of musician Chester Bennington. We know that the suicide of public and much beloved people impacts communities around the world, and in this blog we gives you some advice on how to identify if a loved one is struggling, and how to take action around this.
Are you struggling with thoughts of suicide? Have you lost a loved one and find this time of year particularly difficult? Please call 000 or 911 in an emergency or call Lifeline on 13 11 14.  For crisis hotlines in other countries, visit To Write Love On Her Arms.
Your G.P. and/or a Professional Counsellor can give you the additional support you need. For a FREE 10 minute consultation as to how we can help you, ring Colleen on 0434 337 245 or Duncan on 0434 331 243 or you can book an appointment press Book Now to book in our online diary.