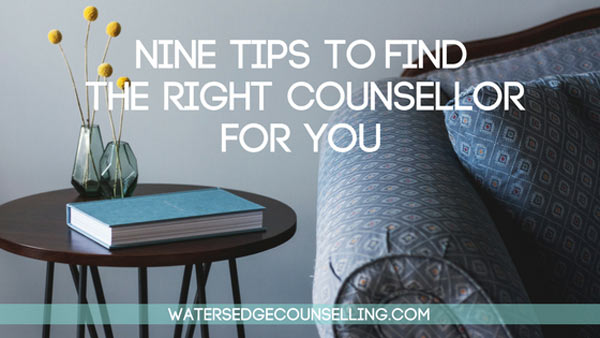 You have decided it is time to see a counsellor—but how do you go about finding the 'right' one for you? Beginning the process may seem overwhelming, but by following these nine tips, you'll be able to locate a professional you 'click' with.
Counsellor or psychologist—What's the difference?
Deciding whether you need a counsellor or psychologist comes down to what approach you want to take in therapy.
Essentially the underlying difference between a counsellor and a psychologist is in the training that each undertakes. A psychologist is trained in the medical model treatment approach; that is to assess, diagnose and implement treatment interventions using Cognitive Behavioural Therapy (CBT). The emphasis is more likely to be upon diagnosis and relief of symptoms.
A counsellor is trained in the therapeutic model, where emphasis is placed upon the counselling relationship and the core principles of empathy, unconditional positive regard and genuineness. In this model, the person is at the centre of the therapy.
Ask your friends
Word of mouth is always a sure way to find the right counselling professional for you. Your friend's recommendation will be based upon their personal experience and effectiveness of the counselling professional they worked with.
Research the counsellor's professional affiliations
The counselling profession has strong professional code of ethics and standards that practitioners are expected to adhere to. Every counsellor should, at the very least, be affiliated with an Accredited Professional Association (APA).
In addition to this, in Australia there are two 'umbrella' associations for counselling professionals; the Psychotherapy and Counselling Federation Association (PACFA) and Australia Counselling Association (ACA).
Alternatively, your counsellor may be affiliated with the Australian Association of Social Workers (AASW) or the Australian Clinical Psychologist Association (ACPA). You will find this information on their web site and/or by asking the counsellor or the organisation they work for.
Research the counsellor's qualifications and experience
What is the issue you want to address? Counselling professionals are trained in the art of listening and facilitating dialogue that allows you to explore your personal experience and discover the necessary resources to encourage, motivate and empower you. In addition, counsellors will invariably develop an area/s of expertise as they continue to practice and pursue professional growth.
If you want to talk about the anxiety you experience, check that your counsellor has knowledge and experience in the area of mental health. If you are struggling with alcohol dependence or binge drinking, then ensure your counsellor has some education and experience in the area of substance issues. Do you need couple or marriage counselling? This is another area of expertise that you will want to ensure your professional is experienced in.
Check out a counsellor's website
A counsellor's website is a great place to get a 'feel' for the person behind the content. Their personal and professional background, interests and the things they write about will all inform you about them.
Talk to the counsellor over the phone
A personal conversation establishes so much more than the information you hear. In every conversation, be it on the phone, email or face-to-face, we are continually interpreting data by the nuances in the other's speech; the pauses, a cough, the tone of voice, the pace of speech. All this information informs us about the person, and we respond in a positive or negative way accordingly.
Take the time to write down the specific questions you want to ask so that you ensure the counsellor is a 'right fit' for you and note how this interaction makes you feel.
Gender
This is a personal choice depending on what you are comfortable with.
Location and professional rooms
Location is an important factor not to be overlooked. You will want your counsellor to be readily accessible and feel comfortable in the space in which they work.
Cost
There is a very broad spectrum in regards to the cost of a session, based upon a counsellor's years of experience, expertise, whether they work privately or represent an organisation for which they are employed, whether they are registered as a Medicare provider or can provide some alternative rebate. These are questions to consider, recognising that the more specialised the field of practice, often impacts the cost of the service.
If you are looking for the counsellor that is 'right' for you, why not call us today? Here's what you need to do: contact Colleen on 0434 337 245 or Duncan on 0434 331 243 for a FREE 10-minute phone consultation on how we can best help you, or press book now.