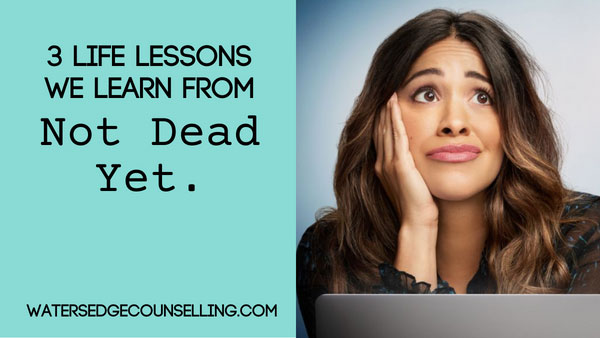 Lots of people have a fear of death, but what happens when you are confronted with the brevity of life everyday? In the new comedic sitcom Not Dead Yet airing on Disney +, we are given a fun spin on an age-old anxiety. And as it turns out, there's a lot we can learn when we confront the realities of death
The sitcom rotates around the life of journalist Nell Serrano (played by actor and producer Gina Rodriguez), a 37-year-old who has returned to her hometown in Los Angeles after breaking up with her partner. In order to pursue a new life a decade ago, she left behind her long-standing career at a newspaper … so when she returns, she is relegated to the obituaries. And if writing stories about dead people wasn't enough, she starts to see them while she writes their article. With nothing left to lose, the dearly departed don't hold back from the truth. And we see Nell start to confront her own fears and insecurities as she grapples with how to live her life.
On a mission to start her life again, it is easy to relate to Nell – here are some lessons her life teaches us.
We have to overcome the shame of our childhood, otherwise we will stay in the mindset as adults
In episode three, Nell is confronted with the shame of her high school years when she has to write the obituary for her former bully. Nell moves from a place of anger to personal uncertainty as she hears the lies about her unworthiness spouted at her again. However, it is only by daring to better understand her bully that she builds empathy – truly coming into her own as an adult as she holds the pain of her past but refuses to let it keep her from living with kindness.
If we run away from difficult situations, we will never grow deep relationships or live meaningful lives.
Sometimes Nell literally runs away for hard situations, just look at how she ran back home after her breakup! Other times, she tries to claw her way out of challenges by demanding attention and accolades she has yet gained. It is her meeting with Monty, her first deceased friend who calls her out and up, inviting her to live in the moment with all its imperfection and pain. We see her housemate Edward continuously do the same for her as he refuses to remove his expectations or boundaries, so they have a healthy home life.
Grief isn't something you fix, it is an experience you empathise with and hold space for.
As Nell spends time with the family of the departed, she hears the regurgitated condolences people give them. Genuine empathy and acts of compassion come off as trite, self-serving and meaningless when we see the discomfort of the families as they face yet another heart-felt message of sorrow. Seeing this reminds us that truly supporting someone in grief is about first honouring what they need, even when it is uncomfortable for us. Nell learns to do this by befriending Cricket and experiences her grace and unconditional acceptance that teaches her how to be a better friend.
Is your life starting again? Do you want to live with courage and bravery? Contact Colleen on 0434 337 245 or Duncan on 0434 331 243 for a FREE 10 minute consultation. If you are ready to book an appointment with Colleen or Duncan click BOOK ONLINE NOW.