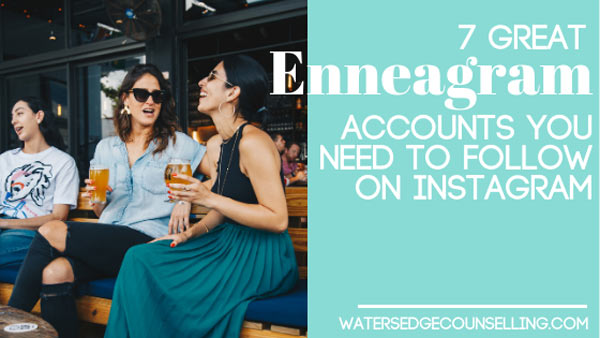 There's nothing we love more than a good discussion about personality types. The Enneagram is our preferred theory, and the ancient method of understanding people—and ourselves—better, has only gained popularity in the Instagram savvy age.
If you're a fan of self-improvement and identify with one of the 9 personality Types on the Enneagram, we have found some of the best Enneagram-based Instagram accounts for you. Want more? Check out our run-down of other Enneagram resources here.

Keeley takes a light hearted approach to the Enneagram, drawing charts of each Personality Type's response to every-day events— a trip to Target, the type of coffee you drink, or what how each type best supports their friends. Follow her @KeeleyShawArt.

Just My Enneatype is one of the more popular Enneagram accounts on Instagram. Created by Enneagram aficionados Josh Green and Liz Carver, they help people to grow and thrive with series like 'Reframing Questions' while loved ones can learn to better relate to other through their "So your __ is upset?" Follow them @JustMyEnneatype.
Highlight: Their Biblical Ancestors collaboration with the Christian Standard Bible.

Professional Enneagram coach Jackie Seibert Brewster runs this account, using questions to move readers towards health. One of the most beautiful Enneagram accounts on the web, she keeps it personable with a 'no perfect people here' policy. Follow her @EnneagramwithJB.

Shelby Whitten is an artist by trade, and her whimsical take on the Enneagram has become a hit online. Pairing each Personality Type with a figure in pop culture (you know how much we love that!), you will definitely want to repost some of these beauties. Follow her @ShelbyCarolineDesign.

New York City based illustrator Blair Ely has gained a huge following by drawing the map of each Personality Types Heart. Her illustrations are gorgeous, and she uses cute characters to communicate how people respond to challenges differently. Follow her @Heart.Of.The.Enneagram.

This account by Enneagram Instructor Dr Joy M. Pedherson PhD alternates between cute, semi-serious posts, to heavy info-based pictures that will broaden your understanding of the Enneagram. She excels in communicating sub-types, wings and the motivation behind different personality types. Follow her @claritycollective_llc.

Christina mixes spirituality, pop culture and fun illustrations to create inspiring Enneagram-based content. Her series depicting aspirational figures and their associated quote for each Type has gone viral online, but she also dives into mental health and encouragement. Follow her @christinaswilcox.
Do you want to learn more about The Enneagram? Would you like to better understand yourself and how to approach relationships in your life?  Here's what you need to do: Contact Colleen on 0434 337 245, Duncan on 0434 331 243 or Rachel on 0442 177 193 for a FREE 10 minute consultation on how we can best help you or book online.