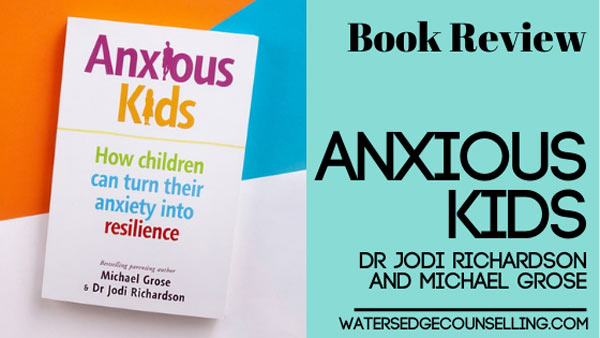 When a child first comes to counselling, their parent or guardian inevitably wants an answer to the question, "What can I do to help my child?"
We love this question, because it highlights the family's commitment to doing the hard yards with their kids. Sure, the child will learn new skills and strategies in individual counselling. But through experience, we know that if the parental figures don't encourage these same practices or strategies at home, counselling won't be as affective as it could be.
So what can a parent do to help their kids the other six days of the week? The new book Anxious Kids – How Children Can Turn Their Anxiety Into Resilience by Dr Jodi Richardson and Michael Grose is a how-to guide that will give you the tools you need to raise a healthy child at home.
Beyond Blue tells us that anxiety affects 1 in 14 Aussie kids aged 4-17. But even if your child doesn't have diagnosed anxiety or experience mental health issues, it inevitably impacts their everyday life. Stress, worry, trauma and fear can all permeate in different ways. So whether your child is showing signs of agitation, rebellion, anger, isolation, aggression or they struggle to sleep, chances are anxiety is playing some role in how they function.
Anxious Kids gives parents, guardians and even teachers a guide on how to support kids experiencing anxiety. Throughout the chapters, Dr Richardson and Grose give an overview of the way the brain is affected by anxiety. Their ability to destigmatise mental health issues, whilst also educating us on the way our kids are affected by anxiety is second to none, and they provide hands on tools that you can use to support your family or young people.
From school stress and nightmares to screen time, Anxious Kids is a book every parent needs on their shelf, to find some encouragement and advice when we need a professional on hand.
As a children's counsellor, I wouldn't hesitate to use this as a guide for my clients and their families. You can pick up Anxious Kids at major bookstores and online.
Does your child experience anxiety? Are you concerned about the wellbeing of your child or teen?  Here's what you need to do: Contact Colleen on 0434 337 245, Duncan on 0434 331 243 or Rachel on 0442 177 193 for a FREE 10 minute consultation on how we can best help you or book online.