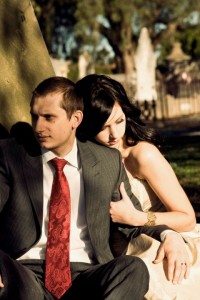 What role do you fulfill in your couple relationship? Are you provider, home-maker, care-giver, house-keeper, disciplinarian, care-taker, handy-person, peace-keeper? You might be able to add your own titles to this list. How did you come to that role? What influences informed your own beliefs about your role? Have you thought about how your identity as male or female, the expectations you hold for yourself and your partner as male and female influence the roles you have in your couple relationship? Misunderstanding and conflict arise when we fail to appreciate how our gender identity impacts our couple relationship.
I am part of the Baby Boomer generation. My mum was home-maker, house-keeper and chief care-giver. My dad was family provider. I don't recall dad being home much in my first 8 years of life. I have strong memories of spending time with my mother- going to 'town', visiting my Nana, watching my mum play Badminton at the local YWCA. I lived in the land of my imagination – my dolls were real people, I played 'Mothers and Fathers', watched T.V. shows such as 'Bewitched','I Dream of Jeannie' and 'Little House on the Prairie' and dreamed of the 'ideal life' of wife and mother, happily ensconced at home whilst my husband went off to work each day.
It is not surprising that when I got married, I took on the role of homemaker, 'chief cook and bottle washer', cleaner, laundry lady and eventually chief care-giver to our 2 children. By that stage, the 60's and 70's had challenged my traditional beliefs around women's roles and so I maintained my career throughout those early years of marriage, taking just 6 weeks off when my twin daughters were born before going back to work (I wouldn't recommend that to anyone- take all the time you can!)
My husband had his own version of what a couple relationship should look like. In fact, in many ways it was quite close to my own version so we agreed that we would work well together as a couple. It was a shock to discover that the expectations we had of each other were often conflictual and for a number of years our couple relationship struggled under the weight of misunderstandings, disappointment and anger.
Much of this conflict was about our gender identity, that is who we are and what we expected of each other as male and female. Much of this knowledge is deeply embedded in your unconscious self. You don't talk about it because you assume that your partner already knows what you expect. There in lies your first mistake!! Never assume that your partner knows what you expect or is able (or even wants) to meet your expectations.
To read more about how you and your partner can:
learn to identify your own gender beliefs
increase awareness as to how these gender beliefs and expectations impact your couple relationship
grow a stronger and more satisfying couple relationship
If you want to grow in your couple relationship, experience wellness and reach toward your full couple potential then here's what you need to do: contact me on 0434 337 245 for a FREE 10-minute phone consultation on how I can best help you .