In Australia, we celebrate NAIDOC week from July 3 -10. It is a week we come together, mourn, celebrate, and educate ourselves so we can build a more just and compassionate society.
NAIDOC Week (National Aborigines and Islanders Day Observance Committee) has been celebrated since 1975, and is a way for all people who live in this country to celebrate the vast Aboriginal and Torres Strait Islander cultures – their history, culture and achievements.
At Watersedge, we are privileged to run our practice on the lands of the Wathaurong people. We have much to learn from First Nations peoples, who have lived on this land for thousands of years. Their practice of listening and learning models how all people can better understand and communicate with one another.
This NAIDOC week, we are all invited to listen and learn from Australia's First Nations peoples – many of whom we live with, work with and know. Here are six books, primarily written by Aboriginal and Torres Strait Islander peoples, that will engage, encourage and educate you and your family this week – and year round.
1. DARK EMU
BY BRUCE PASCOE
In this pivotal book, Bunurong, Yuin and Tasmanian Aboriginal man Bruce Pascoe details what life was like in Australia before colonisation.
Dispelling myths forwarded by explorers, Pascoe bases his findings on time spent with fourth-generation farmers and historical papers, ultimately highlighting the sophisticated way of life of First Nations people – including an incredible understanding of irrigation and fire, to law and language. There is also a children's version available.
Available at major bookstores.
2. MY TIDDA, MY SISTER
EDITED BY MARLEE SILVA
Tidda means 'sis,' 'sister' or 'sissy,' and in this compelling anthology, young Gamilaroi and Dunghutti writer Marlee Silva curates years of Dreamings from generations of Australia's first women.
This is a vast and rich read, divided into essays and advice from Auntys (female leaders) to reflections from Tidda's present and Tidda's future (young females). Highlighting the importance of family, Country and identity, Silva also delves into topics like suicide, trauma and mental ill-health among First Nations peoples as a result of colonisation.
This is a profound collection alongside the artwork of Goreng Goreng woman Rachael Sarram.
Available at major bookstores.
3. TALKING TO MY COUNTRY
BY STAN GRANT
This award-winning book was penned by Kamilaroi and Wiradjuri man and acclaimed journalist Stan Grant, following Australian Football League player Adam Goodes being booed during games in 2015.
In it, he asks all Australians to dream about what their country could be like. Detailing his own upbringing and education, he highlights how racism is still present in Australia today.
A strong, bold read, this asks every Australian, "How can we be better?". For further reading, Grant's 2019 book Australia Day is also available.
Available at major bookstores.
4. DEAR SON EDITED
BY THOMAS MAYOR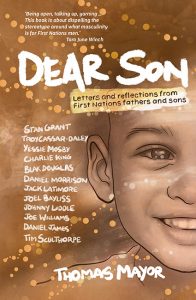 Consider this anthology a partner to be read alongside My Tidda, My Sister because Dear Son paints a picture for us of First Nations manhood.
Torres Strait Islander poet Thomas Mayor has curated and edited 12 letters written by First Nations men to a son, father or nephew.
Authors range from journalist Stan Grant and musician Troy Cassar-Daley to sports commentator Charlie King, and each reflects on love, trauma and the experiences of their ancestors.
For more of Mayor's work, you can read Finding the Heart of The Nation, a book about the Uluru Statement. A young reader's version is also available.
Available at major bookstores.
5. ADOPTED IN LOVE
BY RACHEL HERWEYNEN
This children's picture book beautifully captures two cultures and peoples becoming family. Written in the Yolnu language of Warramiri, as well as English, it tells the story of Herweynen and her husband, who moved to the remote community of Gawa, Elcho Island in the Northern Territory.
Adopted and welcomed in by a local Yolnu family, Herweyenen weaves her Christian faith into the book, and shows how their actions reflect the Gospel message of Jesus Christ. Emphasising that we can all be adopted into God's family, this book celebrates the Yolnu community and culture, noting key life experiences like dancing, hunting and grieving. Paired with beautiful and culturally accurate illustrations by Salome and Katina Moes, every child needs a copy of this.
Available at Christian bookstores.
6. TRACKS OF THE MISSING
BY CARL MERRISON AND HAKEA HUSTLER
Consider this the young adults or fictional offering on this list because this new release set in remote Western Australia depicts the reality of life for a young First Nations man who leaves his remote community and a small town.
Merrison, a Jaru/Kija man, and Hustler, an English teacher, tell the story of 15-year-old Dek. With the chance to have his big break playing footy, he must choose if he will join his grandfather to search for a group of missing classmates who have become stranded in the bush.
With a murderer on the run, this book is filled with mystery and graciously shows the reader more about the character's Dreaming and relationship to land, Creation, Song Lines and Law. Reflecting on the impact of generational displacement, substance abuse, juvenile incarceration, death and racism on the character and his mates, this book is a must-read.
Available at major bookstores.
To learn more about the First Nations people and their culture in your area, attend a NAIDOC event in your community. For more information, visit https://www.naidoc.org.au/.
At Watersedge, we believe that communication and compassion are essential to building healthy relationships. If you would like to learn more about how to build healthier relationships, call Colleen on 0434 337 245 or Duncan on 0434 331 243 for a FREE 10-minute phone consultation on how we can best help you, or press book now.