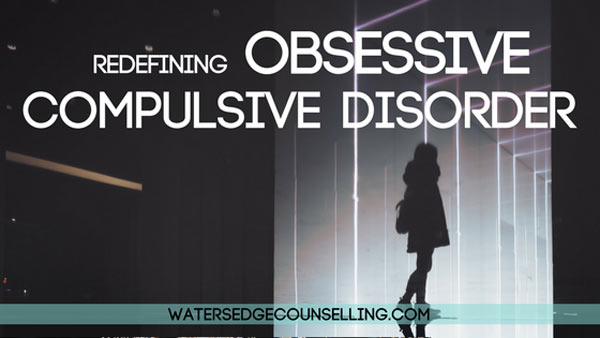 It is a single thought, triggering feelings of anxiety in my stomach that gravitate upwards towards my brain, and down towards my feet.​
It sweeps in, its dark cloak hiding the light of reality, shrouding my mind in confusion that will circle until I distract it, or until it becomes exhausted from repetition. In any case, it will eventually fly away, waiting for the next opportunity to come and consume my mind and body.​
My obsessive-compulsive tendencies do not appear like they say in the books. In them, they show pictures of people washing hands and meticulously lining up objects in order of colour and size. I have been known to do these things, but they are not the compulsions that threaten to break me.
​It is the thoughts.
It is the constant cycle as they spin round and round and round and round—like a death march pulling me closer towards an abyss that doesn't even exist. They create a maze, which, if I am not careful, I begin to believe I am trapped in.
A maze of never-ending thoughts, feelings and uncontrollable behaviours.
I hate my Obsessive Compulsive Disorder. I do not even like to call it mine; after all, it does not define me. It is but a collection of chemicals and synapses. But in those moments, when I can't see or think of anything but that which I fear, I start to believe that we are one and the same.​
In the seconds the thought begins, it traces its way through my body towards a reaction. I have learnt to recognize it almost immediately. Once it would keep me up—minutes and hours and days spent obsessing over the same incident. Through time, however, I have become accustomed to OCD's plans and schemes. How it latches onto words and names, faces and memories. How it likes to catch me off guard when I am tired and burnt out, delivering unfounded threats, saying it will topple my years in recovery and the many times I have conquered it.
The moments it strikes are hard to overcome, because it is difficult to prevent your body from reacting to something it is programmed to respond to. It's like having something wrestle you to the ground, but when you try to fight back, it increases its grip. Only by waiting out the moment does the thought and sensation lose its power.
And ever so slowly, it leaves you alone and the chemicals in your brain make a new, healthier path, allowing you to see that the attacker wasn't even really there. It was all just thoughts and chemicals, pulling you into a parallel reality. Sending you into panic mode.​
I know that I am stronger than these thoughts and compulsions.​
As a teenager I would visualize my fears, and they kept me shut inside my bedroom, afraid of myself and the world around me.
I found freedom when I told my parents about these thoughts—about how I was scared they were real, and that I was living a lie.
I found freedom when, with the support of my psychiatric nurse, I took short walks in the daylight, slowly decreasing my irrational fear of being attacked outside of the home.
I found freedom when I realized that I didn't want to die, even when the thoughts and compulsions told me I did.
The truth is, OCD has robbed me of a lot. Sometimes it still tries to steal precious minutes of my days. But I have realized that who I am today—the strong, resilient woman I have become—would not exist without it.
By facing OCD and anxiety, I have learned that small steps lead to grand adventures, and short walks outside bolster courage within me to explore new lands.
By struggling with OCD and anxiety, I have learned to have empathy and compassion towards people who are different to me, because I have questioned my own identity too.​
By questioning OCD and anxiety, I have redefined and re-evaluated what I believe, and why I want to be alive.​
And by overcoming OCD and anxiety, I have learnt that this all-encompassing illness does not define me. I am not the thoughts it places in my head, or the panic that sets in about something I am in control of. I am not the insomnia, or the chemicals and hormones racing around my body, triggered by a lingering doubt in my mind. ​
I am so much more than this.
I am brave and bold, fearless and courageous. Yet I would not possess these in such great quantities if I did not battle with Obsessive Compulsive Disorder.
I have hope that one day the OCD will pass forever. That the triggers of this season will cease, as did those of past years. That the fears they bring will be overcome with love and patience and trust. That I will become so confident and certain of my own worth and identity that the moment a thought attempts to trigger a compulsion it will be blocked by my own self-love.
Until then, I ride it out. I take the moments OCD strikes as an indicator that I need rest, and I revel in the victory awaiting me on the other side of it.
I redefine OCD as an illness, not an identity—a moment, rather than a lifetime. I am not my Obsessive Compulsive Disorder, but because of it I have become me. And that is why I will overcome it, every single time.​
This excerpt comes from Jessica's memoir, When Hope Speaks: Thoughts on faith, hope, love (and depression). Buy Expanded Edition on Kindle HERE.
Do you struggle with obsessive compulsive behaviours or thoughts? Are you concerned about the mental health of a loved one? Here's what you need to do: contact Colleen on 0434 337 245 or Duncan on 0434 331 243 for a FREE 10-minute phone consultation on how we can best help you, or press book now.