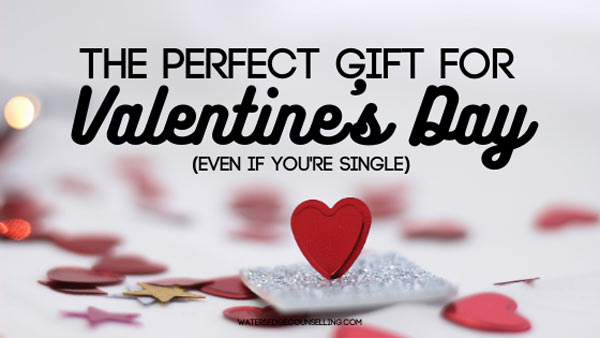 Valentine's Day celebrates the richness of love – not just with a romantic partner, but with our children, neighbours, colleagues, strangers and people who are hurting.
Commercially we are encouraged to get lost in roses, cards and expensive chocolates – but if we're honest, we don't all feel 'loved' on Valentine's Day. And as we navigate COVID, many of us feel more isolated than ever. That's why, depending on your circumstances, Valentine's Day will reinforce one of the following statements about you:
I am in a happy, loving and relationship.

The relationship I am in falls beneath my expectations of what a loving relationship should look like.

I am alone (and it sucks).
Whether you resonate with statement one, two or three, you deserve a gift this Valentine's Day. And if you're sharing the day with someone else, they can be given this present as well.
It is one of the most undervalued, yet affordable gifts that you can give to your partner or friend. And no, it's not a teddy bear that says, "I love you."
It is the gift of kindness.
On an almost daily basis, I witness people say they experience conflict in their couple relationship, but they love each other. It is my belief that one of the chief indicators of a loving relationship is kindness. Kindness is being a true, genuine and generous friend to your partner or loved one. It is also about being kind to yourself, acknowledging you are worthy of love and able to give it to others.
Where a relationship does not feel secure and you feel alone even within your relationship, Valentine's Day invites us to make the intentional effort to show people we love them through a gesture or gift. Being a person who loves the occasional gift, I believe that this can still be a beautiful expression of love when given with thought and intention. However, the notion that a romantic gesture or gift is 'enough' to sustain any relationship is false.
Use Valentine's Day as an opportunity to change the way you treat your loved ones by doing something 'special' — a small gift, a meal together or even a walk along the beach or in a park. Be as creative as you like, just so long as it is something that they will enjoy.
If you are alone this Valentine's Day, then the gift of self-kindness is equally important. It is easy to become prey to your own negative thoughts when the media tells us that  'everyone' is in love and deliriously happy (that's a lie by the way).
Self-kindness is an absolute necessity for good mental health and positive wellbeing.
It might begin at that place where you practice saying 'no' to a request for help and do something that you enjoy instead. Go for a walk, buy yourself a bunch of flowers, read that book, have a massage (you get the idea).
Instead of feeling inadequate, or alone, this Valentine's Day, practice kindness. It is the best gift for a partner, a friend, a stranger – and even yourself. Whether a gesture is big or small, we have the ability to change someone else's day. Remember, it's people that matter – not things. So be kind, and accept the kindness you also deserve. That how Valentine's Day can be filled with enough love for everyone.
Are you alone on Valentine's Day? Do you want to reignite the spark in your romantic relationship? Contact Colleen on 0434 337 245 or Duncan on 0434 331 243 for a FREE 10 minute consultation on how we can best help you or book online now.